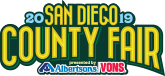 Get your homemade wines ready for the 2019 San Diego County FairHomemade Wine Contest! The awards ceremony will be held before the actual fair opens, on Sunday April 28, 2018 from 3-5 pm. Register online by Wednesday March 29, entry drop off is Tuesday April 16th. Find entry forms and more details online here
Registration is only accepted online. Processing fees are non-refundable. As part of registration you will receive 2 tickets to the Fair (opening May 31st), and up to 4 tickets to the Awards Ceremony; you can only attend the Awards Ceremony if you have a ticket, and must be 21 or over. You will also receive a voucher for discounted tickets to the Toast of the Coast.
Key dates:
Entry Registration Deadline: Wednesday, March 29. All entry registration must be submitted online by 11:59pm (Pacific Daylight Time). Entry Office extended hours to 7:00pm on March 29. Enter your information carefully and proofread to ensure accuracy for exhibit labels. Late entries will not be accepted.
Entry Processing Fee: $20.00 per entry.
Delivery of Entries: Tuesday, April 16, Noon - 7:00pm.
Judging: Closed Session, Saturday April 27.
Awards Ceremony and Exhibitor Tasting: Sunday, April 28 from 3:00pm - 5 :00pm, at the Fairgrounds. The location will be sent via email after the online registration deadline
Note for wine kit entries: For any kit blends, just write "Proprietary Kit" for the percentages.
Good luck to everyone, we hope to see MANY of you there!